Making Memories

One Cruise at a Time

Upcoming Holiday Events:


Follow Us!
Join the Captain's Club:
Enter your email address for free updates on special events and exclusive club member discounts!
Redeem Groupon Tickets
Reviews:

Map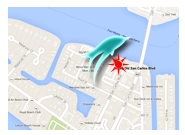 Location
We are located at 645 Old San Carlos Blvd. on Fort Myers Beach, under the skyway bridge  behind "Nervous Nellie's," adjacent to the "Marina Village Resort Condominium" dock.
Click here for details and parking information.
Before or after your cruise,
the fun continues at Nervous Nellie's!